Sildenafil
Sildenafil is a medication most commonly used to treat impotence. Its full name is sildenafil citrate and it is sold to the public as the prescription medication known as Viagra. It is designed to increase blood flow into the penis after arousal, making it easier for men to maintain a longer lasting erection.
Chemical Composition of Sildenafil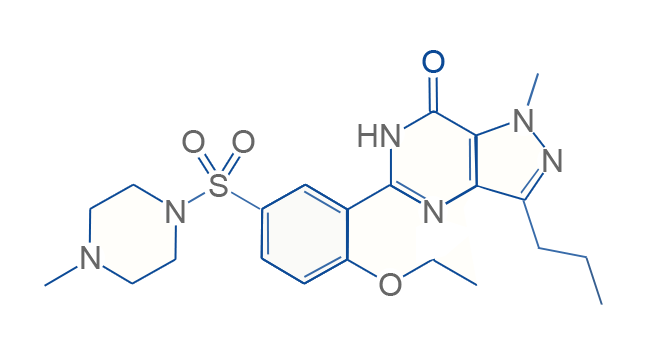 How it works
Sildenafil is a phosphodiesterase type-5 inhibitor, or PDE-5 inhibitor, which works by blocking the action that the enzyme known as PDE-5 has on the blood vessels that supply blood and oxygen to the penis. PDE-5 can also be present in the smooth muscle within the lungs, which is why sildenafil is sometimes used to treat pulmonary hypertension as well as impotence.
Uses in erectile dysfunction
Men who suffer from impotence are often prescribed a PDE-5 inhibitor as a way of treating the condition. The most common medication used to treat erectile dysfunction is Viagra, which contains the active ingredient sildenafil.
When a man becomes aroused, signals are sent from the brain via the nervous system that release chemical messengers into the tissues of the penis. One of the messengers that is released is a nucleotide called cGMP.

cGMP causes the blood vessels in the penis to widen, which allows more blood into the penis so that a man can get an erection. Normally, cGMP is broken down by PDE-5. This would then cause the blood vessels to return to their normal state, minimising blood flow into the penis. This normally occurs at the end of the erection process.
Men suffering from erectile dysfunction experience shorter lasting erections, flaccidity and occasionally premature ejaculation. Sildenafil helps by inhibiting the chemical that breaks down cGMP. In doing so, cGMP continues to work to open and widen the blood vessels leading into the penis, increasing blood flow into the area. This means that an erection will be harder and longer lasting.
Other uses
Sildenafil was initially developed for the treatment of angina pectoris, a heart condition which causes severe chest pain. However, it was not successful for this purpose and has since been marketed to treat other related conditions such as chronic heart failure and pulmonary heart disease.
Contraindications
Patients taking nitrate medications will be advised to avoid taking sildenafil. When marketed as a treatment for erectile dysfunction, patients who have been advised against sexual intercourse will not be prescribed the medication.
Heart or blood vessel diseases will also prevent a patient from being able to safely take a PDE-5 inhibitor. You will further be advised against taking the medication if you currently suffer (or have in the past suffered) from stomach ulcers, stroke, heart attack, kidney disease, liver disease or bone marrow cancer.