Cold Sores
The type 1 strain of the herpes simplex virus causes cold sores (or labia herpes), which are usually fluid- filled blisters that form on and around the mouth. The infected area is often tender, painful and very contagious. Most people catch the virus when they are children.
An outbreak of cold sores tends to be very uncomfortable and can take time to heal. If you suffer from regular outbreaks, taking an anti-viral medication can help shorten the time it takes you to recover, while reducing the severity of your symptoms.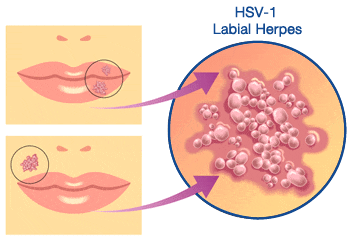 What causes cold sores?
When you first contract the virus you may not display symptoms right away. Most people that contract the virus when they're young only start showing symptoms when they reach their teens. Even if you don't show symptoms, your body is never completely free of the virus. Throughout a person's lifetime, the herpes simplex virus may flare up and invade the outer layer of skin, causing fluid-filled blisters.
How could I have caught the virus?
You can get the virus that causes cold sores by coming in direct contact with an area of skin that has active cold sore symptoms. The virus is spread through touch; kissing a person with active symptoms is the most common way people contract this virus. Sometimes the symptoms aren't visible, especially at the start of an outbreak. Although it is possible to pick up the virus in your adult years, it is more likely that you'll get it as a child. Genital herpes is also caused by the herpes simplex virus, but usually by strain 2 rather than strain 1. It is therefore also possible to get cold sores by receiving oral sex from a person who is displaying active genital herpes symptoms.
YOU
PERSON ALREADY INFECTED
Contact
Causes
Mouth
Genital
Cold sores
Mouth
Mouth
Cold sores
Genital
Genital
Genital herpes
Genital
Mouth
Genital herpes
What are the cold sore symptoms?
The first indication of an outbreak is usually a burning, tingling or itching sensation in a specific area on or around the mouth. One or two days later, the first cold sores will appear as fluid-filled red or purplish blisters on or around the lips or in the corners of the mouth. After a couple of days these tend to merge and form a yellowish crust, which heals within two weeks. The first couple of times you experience an outbreak will be the most painful and uncomfortable, but eventually they become less severe, and the symptoms are less intense.
Stage 1 lasts around one day and causes tingling, itching and burning around the mouth.
Stage 2 lasts around two days and small red bumps start to blister.
Stage 3 lasts up to three days.
What cold sore treatments are there?
There is no cure for the herpes virus, but there are treatments available that can help slow down the active spread of the virus and decrease your recovery time. There are cream treatments, such as Zovirax, that can be applied daily to soothe symptoms. There are also prescription medications, which combat the virus directly. The most common treatments are Valtrex and Famvir.
Buying a cold sore treatment online
Ordering your cold sore medications online from euroClinix is both secure and convenient. We offer a free consultation service with all our orders to ensure that the treatment you've chosen is the right option for you. When you order your medication, all you have to do is fill out the consultation form. This form will be reviewed by one of our doctors. If the treatment is approved, a prescription will be issued and passed on to our registered pharmacy, which will send it out via free overnight delivery.