Effects of Passive Smoking
Passive smoking, often referred to as second hand smoke, is basically the smoke generated from cigarettes and the smoke exhaled by smokers. It can't always be seen or even smelt and can remain in the air for up to 2.5 hours. The effects of passive smoking can be just as damaging as that of actually smoking, and it is considered to be dangerous to all non-smokers, especially children. The effects of passive smoking are the reason that there is a smoking ban in most public spaces today.
What are the effects of passive smoking?
If you are a smoker, you are inhaling up to 4000 harmful chemicals with every cigarette you smoke. Non-smokers at the receiving end of second hand smoke can also inhale those same toxic chemicals every time they are exposed to passive smoke. As a non-smoker, some of the effects of second hand smoke are:
Cardiovascular diseases and negative effects on circulatory system, which can lead to an increased risk of a heart attack and heart disease.
Cancer: passive smoking effects can greatly increase the risk of cancer. Cancers that are associated with passive smoking are lung cancer, breast cancer in women, renal cancer and also brain tumours.
Respiratory diseases as well as problems with the ears, nose and throat. From asthma to continuous coughing, shortness of breath and a blocked nose.
Premature birth or low birth weight in pregnant women. Can also negatively affect the development of a growing, unborn foetus.
Although no conclusive proof has been found, passive smoking has been linked to stroke, breast cancer, lymphoma and leukaemia.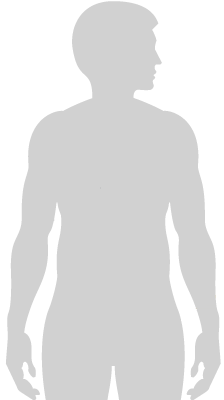 Eyes and nose
Eye irritation including excessive watering of the eyes resulting in a disruption of vision. Constant nasal irritation.
Ears
Although more common in children, this viral infection can still affect adults.
Upper respiratory symptoms
These can include headaches, dizziness, coughing, wheezing, sore throat, shortness of breath, running nose, and sinus problems. Allergy symptoms may also increase.
Heart
Heart rate can change, significantly increasing the chances of coronary heart disease as well as raise the risk of heart failure or a heart attack.
Lungs
The risk of lung cancer can increase significantly by up to a third. You may also experience worsening chronic lung condition such as chronic obstructive pulmonary disease or asthma. There is also an increased risk of bronchitis, pneumonia or the risk of influenza.
Gastric
Constantly feeling sick or suffering with symptoms of nausea is a common effect of smoking.
Passive Smoking side effects
Click on the relevant area of the body to find out about how it may be affected by Passive Smoking
The effects on children
While passive smoking has a significant effect on adults, it has an even more negative and damaging effect on children. The reason for this is that children are still developing and growing and are therefore more sensitive to the toxic effects of passive smoke. Children are more susceptible to the following effects of passive smoking:
Development delays and learning difficulties
Lung infections
Middle ear infections
Sudden Infant Death Syndrome
Although you may already be aware of the effects of passive smoking, you could be finding it difficult to give up for good. You can visit our quit smoking tips page for helpful information to get you started or our page about smoking side effects to show you the effects that smoking has on your body.