What is Levitra (Vardenafil)?
Levitra is a brand name for a medication for the treatment of erectile dysfunction. It is a highly effective treatment and 75% of those with organic erectile dysfunction who take this medicine are successful in treating it. It begins working after 30-60 min, but the effects last for up to five hours. It works in the same way as Viagra and Cialis by increasing blood flow to the penis.
euroClinix offers both the generic and branded versions of Levitra at great prices. Free medical assessment, prescription, and shipping are included to ensure an easy ordering process. Click "start medical questionnaire" above to begin your online consultation today.
How does Vardenafil work?
At least one in ten men have difficulty achieving an erection from time to time. ED, sometimes referred to as impotence, is a condition characterised by the inability to get or maintain a satisfactory erection for sexual activity. The problem arises when there is not enough blood flow to the penis to have and maintain an erection. The cause may be physical, psychological, or both.
Levitra allows you to achieve and maintain an erection by simply increasing the blood flow to the penis.
It contains the active ingredient vardenafil, a PDE5 inhibitor. The drug works by preventing the cGMP molecule from being broken down by an enzyme called phosphodiesterase type 5 (PDE5). cGMP is produced in the penis during normal sexual stimulation, where it causes the spongy tissue of the penis (the corpora carvenosa) to relax. As nitric oxide is released directly from the nerves and cells in the penis, it dilates the blood vessels and activates a certain enzyme to produce cGMP. Therefore, Levitra restores erectile function by blocking the breakdown of cGMP, allowing blood to flow.
How is Levitra used?
Levitra is used as a treatment for adult men (aged 18 and over ) with erectile dysfunction. For Levitra to be effective, sexual stimulation is necessary while taking it.
The patient information leaflet provided with Levitra should be read before use.
A brief overview on how to take Levitra is as follows:
take one tablet 30-60 minutes before sexual activity
you should take the tablets orally with water if necessary
do not take more than once a day
Find out more about Levitra in the video below: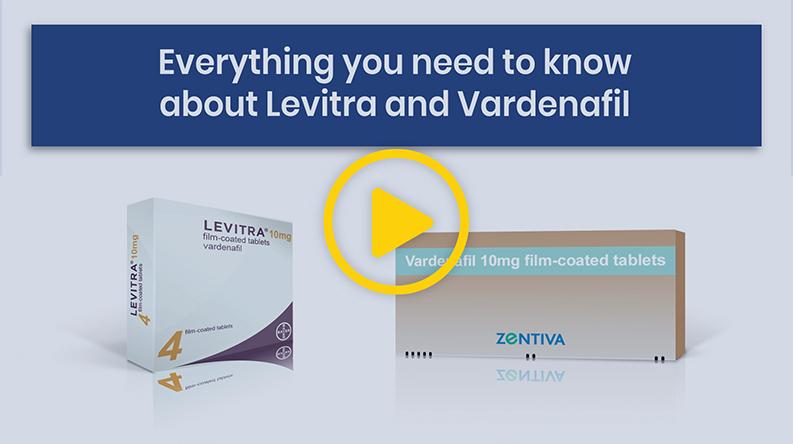 What is the recommended dosage of Levitra?
In general, the recommended starting dose for the tablet is 10mg. Depending on your specific medical history, your starting dose may vary. The maximum daily dose is 20mg, not to be exceeded in any 24-hour period.
The treatment is available as 5mg, 10mg and 20mg film-coated tablets. It is also available in the form of orodispersible tablets (10 mg), that dissolve in the mouth for those that struggle to swallow tablets whole.
How long do the effects of Levitra last?
As stated by Levitra's manufacturers, its potency lasts for 4-5 hours. This however does not mean you will have an erection for 4-5 hours after taking the treatment, only when sexually stimulated. A variety of individual factors such as age, body type, weight, eating habits, and health will determine how potent the drug is and how long it will last when you use it.
Are there any side effects associated with Levitra?
In general, Levitra is considered a safe drug and it should be safe for you to take as long as it is prescribed by a doctor, as they will always evaluate your current health and medical history before prescribing it to you. Still, some people can experience mild to moderate side effects from taking it.
The most common side effects from Levitra are:
Common:

Dizziness
Flushed skin
Headache

Blocked or runny nose
Indigestion
Although uncommon with Levitra, serious side effects can occur so it's important to recognise them. Get medical assistance right away if you experience any pain or a prolonged erection lasting more than four hours (priapism). If you experience very serious side effects, such as seizures, chest pain, loss of vision, temporary memory loss, or a very serious allergic reaction, seek medical attention right away. A detailed list of side effects can be found in the patient information leaflet.
Can Levitra be taken with food and drinks?
Levitra can be taken with or without food. However, this does not mean that the medicine will work as effectively if you eat something before you take it. In fact, taking Levitra film-coated tablets with a high-fat meal may delay the onset of the drug's effects.
While you are taking Levitra tablets, you should not drink grapefruit juice. Grapefruit juice can affect the absorption of the medication. In addition, Levitra orodispersible tablets should be taken without liquid.
Can it be taken with alcohol?
When vardenafil and alcohol are combined, you may experience symptoms such as dizziness, lightheadedness, fainting, flushing, headache, and heart palpitations. Alcohol may also reduce your ability to achieve an erection, and therefore reduce the treatment's effectiveness. Alcohol should be avoided or limited while taking this treatment.
Is Vardenafil safe for everyone?
There could be interactions with Levitra (vardenafil) if you are taking other medicines or supplements.
Levitra may cause a sudden and serious drop in blood pressure when taken with certain other medicines. Tell your doctor if you are currently taking any of these so they can safely prescribe Levitra:
any other treatments for erectile dysfunction, including sildenafil or tadalafil
nitrates (medicines used to treat angina i.e., amyl nitrite.)
medicines to treat abnormal heartbeats (such as quinidine, procainamide, amiodarone or sotalol)
indinavir or ritonavir (used to treat HIV infection)
ketoconazole or itraconazole (used to treat fungal infections)
erythromycin or clarithromycin
alpha-blockers (medicines for high blood pressure)
riociguat (used to treat forms of pulmonary hypertension)
In addition, Levitra must not be used by patients who have ever lost their vision due to impaired blood flow to the nerve in the eye (nonarteritic anterior ischemic optic neuropathy or NAION) or have severe heart disease and need to restrict sexual activity.
People with hypersensitivity (allergies) to vardenafil or any of the other ingredients must also avoid taking Levitra.
Levitra should be used with caution if you have:
heart problems such as an irregular heartbeat or inherited heart disease
a physical condition that affects the shape of your penis
an illness that causes erections to not go away (such as sickle cell disease, multiple myeloma, and leukaemia)
a history of stomach ulcers
a bleeding disorder
Levitra has not been studied in the following group of patients, and therefore they cannot use it:
patients with severe liver problems or end-stage kidney disease who need dialysis
patients who have hypotension (low blood pressure)
patients who have had a stroke or a heart attack
Is Levitra available over the counter?
Levitra is a prescription-only medication, which means that a doctor must assess you before prescribing it to ensure that it is safe and appropriate for you. With our online doctor & pharmacy service, you can get Levitra without making an appointment with your GP. Simply complete a brief online questionnaire about your health to get started. Once (and if) approved, your prescription will be sent discreetly to your door with free next-day delivery. The whole process is quick and easy so that you can begin enjoying the benefits of Levitra right away.
Note: You must complete a short online consultation so that our doctor can ensure that the treatment is suitable for you. The above pricing should only be used as a reference. The final decision to issue this treatment lies with the prescribing doctor.