What is Levitra?
Levitra (vardenafil) is an effective medication that men can purchase online in the UK to successfully treat erectile dysfunction (ED). This clinically proven impotence treatment is effective in a lower dose when compared to other impotence tablets, which makes it less likely to cause side effects.
This also makes it a better impotence treatment for older men and those with underlying health conditions, such as diabetes, high blood pressure and high cholesterol. Most men start noticing effects around 15 to 20 minutes after taking Levitra tablets. Once this treatment is in your system, the effects can last up to five hours. This fast-acting medication is taken in the form of a 5mg, 10mg or 20mg tablet and lasts for up to five hours, ensuring an improved sexual experience.
How does Levitra work?
Levitra tablets have an active ingredient called vardenafil, which works by influencing the function of phosphodiesterase type 5 (PDE-5), a naturally occurring enzyme in the body. PDE-5 breaks down cGMP, which is a nucleotide that is released when you're aroused.
A very complicated sequence of events occur before an erection is formed, involving signals from the nervous system and the release of chemical messengers inside the penile tissues. One of the names of these overriding chemicals is called cyclic GMP.
cGMP causes blood vessels in the penis to relax and allow more blood in, which ultimately results in an erection. When you climax or if you are no longer stimulated, PDE-5 breaks down cGMP so that blood flow can return to normal. Sometimes a problem in the erection process can cause PDE-5 to work too soon. Vardenafil inhibits PDE-5, making it easier to keep or get an erection. For this treatment to cause an erection, you need to be sexually aroused before you use Levitra.
How to take Levitra?
Levitra (vardenafil) pills are available to order online at euroClinix in three dosage strengths: 5mg, 10mg and 20mg. The tablets can be taken with or without food. However, meals with a large fat content may delay the medication's effect. If you are unsure which dose to take, you can contact us for more information.
This treatment normally works within 20 to 60 minutes of you taking it, although some men will notice effects within 15 minutes. This medication stays in your system for approximately four to five hours and should not be taken more than once during a 24-hour period.
If you feel the treatment is too potent for you, review this with your doctor, as your dosage may need to be lowered. If you fail to obtain an erection after taking vardenafil, or if it does not last long enough for you to have sexual intercourse, review this with your GP or healthcare provider. Also, do not take more tablets than you recommended amount.
Levitra Orodispersible
Levitra is also available as an orodispersible tablet. This type of Levitra is very discreet, as the tablet is easily dissolved on the tongue within seconds and needn't be swallowed whole with water. This also means that it can be taken at any time. Levitra orodispersible tablets have been shown to work quicker than regular tablets, because they are absorbed instantly into the blood stream. This medication also leaves a pleasant minty aftertaste.
Place the 10mg tablet on your tongue for a few seconds until it starts to dissolve, and then swallow it. You should avoid taking this medication with water, as this dilutes its immediate effectiveness in your body. You should take the tablet at least 20 minutes before sex, and be aware that it will last for up to five hours. Do not take an additional tablet or other impotence medication within 24 hours. This treatment can be taken with or without food, but preferably not with a high fat meal since this may delay their onset of action.
Store this medication at 25 degrees Celcius (77 degrees F); excursions are allowed to 15-30 degrees (59-86 degrees Fahrenheit). Remember to keep Levitra Orodispersible pills out of reach of children.
Dosages
At euroClinix, this medication is available in 5mg, 10mg and 20mg doses. The typical starting dose is 10mg. You can also buy the alternative, Levitra Orodispersible which dissolves on the tongue as opposed to being swallowed in tablet form.
Levitra precautions
Levitra is a prescription medication and as such not suitable for everyone. People react to medication in different ways, which is why a prescription is necessary as it shows that a doctor has confirmed an individual's suitability for a particular medication.
A treatment with Levitra is not advised for:
Women
Men under the age of 18
Patients with an allergy to vardenafil or any ingredient contained in Levitra
Patients with severe liver or heart problems
Patients with undergoing kidney dialysis
Patients with low blood pressure
Patients who recently had a heart attack or stroke
Patients with a family history of degenerative eye disease
Men over 75 and taking anti-fungal medicines including ketoconazole or itraconazole
Patients with non-arteritic ischemic optic neuropathy (NAION)
Some people may be more susceptible to certain side effects, meaning they may be unsuitable for a particular treatment or will simply require a lower dosage. Levitra can also be harmful if taken by people with certain underlying health conditions.
| Heart | Nitrates |
| --- | --- |
| Those with heart problems, including cardiac arrhythmia, should be careful when taking Levitra. | If you are taking Nitrates of any kind, you should not take Levitra as it can cause dizziness or lead to a heart attack. |
| Women | HIV |
| Because Levitra hasn't been approved for use in women, it should be avoided. | Those taking medications to treat HIV should not take Levitra simultaneously. |
If you are unsure of whether or not Levitra is safe for you, and you want additional confirmation, the best thing to do is to contact our doctor online or contact our customer service team. They can answer any questions you may have and also let you know if Levitra is safe for you.
Taking Levitra may come with an increased risk of complications for patients with:
Heart problems, including cardiac arrhythmia or inherited heart disease
Physical condition such as angulation, cavernosal fibrosis and Peyronie's disease
Illnesses such as sickle cell disease, leukaemia and multiple myeloma
Stomach ulcers
Bleeding disorder like haemophilia
Levitra interactions
People who are taking nitrates, nitroglycerin or certain types of antiarrhythmics should not buy this medication. Nitrates cause the muscles to relax and have an effect on blood pressure. If you take nitrates with Levitra, the combination could cause a drastic drop in blood pressure. Do not take Levitra pills with other ED medications such as Cialis and Viagra. Doing so could also cause harmful side effects.

Nitrates cause the muscles to relax, the vessels to enlarge and the blood pressure to drop, which is similar to the effects of Levitra. In conjunction the two medications can cause a drastic drop in blood pressure. If the patient is suffering from a heart condition such as angina, this can have a detrimental effect on their health and may instigate a heart attack.
Alpha blockers are used to treat high blood pressure and enlarged prostate glands. Because they lower blood pressure, if combined with Levitra, the blood pressure can drop even further which may cause dizziness and fainting. A doctor can potentially prescribe a lower dose to avoid this happening.
Any nitrates: A combination of a nitrate treatment and this impotence medicine will cause a detrimental drop in blood pressure. Examples of nitrates that do this are; glyceryl trinitrate, isosorbide mononitrate (both used as heart failure and angina treatments), nicorandil and amyl nitrate (poppers).
Protease inhibitors: These are used to treat HIV and can cause the blood level of vardenafil to be very high, which can cause the side effects of Levitra to be much more severe.
Other erectile dysfunction treatments:Levitra cannot be used in conjunction with other erectile dysfunction treatments, such as Viagra and Cialis.
When you fill out the online consultation, please list all the medication you are currently taking, including those purchased without a prescription and herbal treatments, before you begin taking Levitra. Likewise, double check with your GP or healthcare provider before starting any new treatment whilst taking this one, to make sure you are using a medically safe combination.
When you are taking this treatment, avoid grapefruit juice, as it may increase the ingredients in your blood and this consequently increases the risks of experiencing side effects. Do not take more than the recommended dosage. As a further note of caution, refrain from drinking large quantities of alcohol with this treatment. Drinking too much alcohol can reduce your ability to achieve an erection sufficient for sex.
Levitra side effects
When Levitra (vardenafil) pills are taken at the recommended dose, side effects are very rare and usually mild and transient. The most common potential side effects are headaches, facial flushing, stuffy or runny nose, upset stomach and dizziness.
These usually disappear within a couple of hours or days, and should occur less frequently as your body gets used to the medication. If these possible side effects become particularly bothersome or if you experience anything more serious, speak to a doctor for advice as soon as possible.
People react differently to medications; just because a side effect is stated, it doesn't mean you are guaranteed to experience it. Most people who buy Levitra can take it without any complications.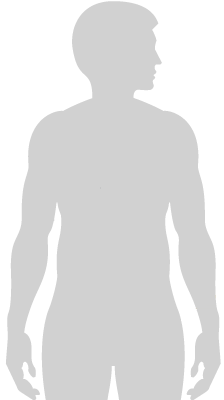 Neurological
The two most common neurological side effects that may occur are headaches and dizziness. Fatigue does not occur as commonly but may occur as a result of this medication. Neurological side effects like fainting and memory loss are very rare.
Head
Facial flushing is a common reaction to this medication. Bloodshot or watery eyes are less common, while visual disturbances and conditions like glaucoma are very rare. Swelling of the throat is also very rare, and could be a sign of an allergic reaction. Medical attention should be sought immediately if this occurs.
Heart
Palpitations are uncommon but may occur. Changes in blood pressure and angina are very rare but should be taken seriously if they occur.
Gastric
Indigestion is a fairly common side effect of this medication. Nausea is not as common but is a possibility.
Levitra side effects
Click on the relevant area of the body to find out about how it may be affected by Levitra
Because the dose of vardenafil is low, the chance of suffering from side effects is also low. One tablet will last for 24 hours, which means that if you do experience side effects, they shouldn't bother you for longer than a day.
| | | | |
| --- | --- | --- | --- |
| | COMMON | UNCOMMON | RARE |
| Headaches | | | |
| Dizziness | | | |
| Flushing | | | |
| Indigestion | | | |
| Visual disturbances | | | |
| Palpitations | | | |
| Facial swelling | | | |
| Fatigue | | | |
| Bloodshot or watery eyes | | | |
| Nausea | | | |
| Change in blood pressure | | | |
| Loss of memory | | | |
| Swelling of the throat | | | |
| Fainting | | | |
| Glaucoma | | | |
| Angina | | | |
How to buy Levitra online?
You can buy Levitra (vardenafil) tablets online from euroClinix in 5 mg, 10 mg and 20 mg doses to effectively treat erectile dysfunction (ED) and improve your sexual experiences. To purchase this fast-acting and clinically proven medication, simply complete a quick online consultation with one of our doctors to ensure that the chosen medication will provide you with the best chance of treating your condition.
If your order is approved by one of our professional doctors, a prescription will be sent straight to our UK registered pharmacy, who will ship your medication to the UK and most other European countries for free overnight delivery.
We understand how important it is to package your treatment discreetly during the delivery process. That is why we deliver all packages in plain, tamper-proof polyethylene courier bags. Our website name will not be written on the outside of the package when it is delivered to you.