Addyi Flibanserin
What is Addyi (flibanserin)?
Addyi - also referred to as the 'female viagra' or 'the little pink pill' - is an effective treatment for Female Hypoactive Sexual Desire Disorder (FHSDD) in premenopausal women. Created by Boehringer Ingelheim, a German Pharmaceutical Company, but was successful transferred and trialled by Sprout Pharma who received approval for its use in FSHDD. This treatment improves a woman's sexual desire and libido through triggers in the brain, a tactic different to usual erectile dysfunction treatment that focuses on increasing blood flow. The increase in sexual desire is the main benefit, however this could lead to the following positive outcomes as well:
Benefits
A more positive and romantic affect on existing relationships
Decrease or remove psychological factors such as stress, anxiety or depression caused by a lack of libido
As flibanserin is a non-hormonal treatment, it doesn't cause any side effects associated with hormonal treatments such as mood swings or headaches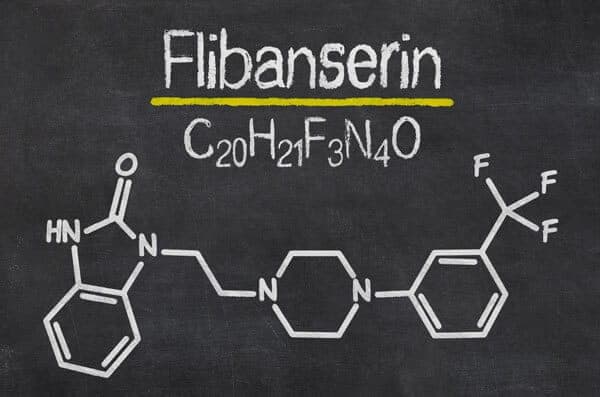 History and studies
Flibanserin has now been tested in over 11,000 women.
The FDA approved Addyi after three 24-week studies on premenopausal women with HSDD in North America. Within these studies, Addyi was proven to demonstrate an improved sexual desire in these women, which in turn reduced psychological factors such as distress that was caused by the loss of sexual desire.
Flibanserin is proven to be safe after clinical trial data obtained from over 8,500 women, with over 1,000 of these women exposed to the treatment for at least a year.
The most common side effects from this trial were dizziness, tiredness, nausea, fatigue, insomnia and dry mouth.
The FDA and Sprout Pharmaceuticals have developed together a Risk Evaluation and Mitigation Strategy (REMS) program that ensures the safe use of Addyi moving forward.
Female hypoactive sexual desire disorder (FHSDD)
Female hypoactive sexual desire disorder (FHSDD), also known as 'low libido' or 'low sexual desire', is the most common complaint among women who experience a sexual dysfunction. It is defined as a deficiency in desire for sexual activities and sexual fantasies. This causes a lot of personal distress amongst women, which can furthermore affect their quality of life and overall happiness.
Causes of FHSDD
FHSDD itself has a variety of causes, both physical and psychological. Quite often, it is a combination of factors that leads to this condition. These causes include:
Certain medications
Underlying medical conditions including diabetes, arthritis, cancer and coronary artery disease
Psychological conditions such as anxiety, past sexual trauma and depression
Pregnancy and menopause can trigger hormonal changes particularly due to the drop in oestrogen levels during menopause
A busy and often stressful lifestyle can leave you feeling too tired
Relationship issues if you are not satisfied or happy in your current relationship or bad experiences in past relationships
How does Addyi (flibanserin) work?
Addyi contains a non-hormonal agent that essentially increases levels of dopamine and noradrenalin, as well as decreasing serotonin levels in the brain. This then has a positive effect on the woman's brain, causing an improvement in their sexual craving. Although Addyi is referred to as a 'female viagra', it has more in common with antidepressants due to the changes in brain chemistry. In no way does this mean you need to have depressive thoughts to take Addyi.
Difference between Viagra and Flibanserin
As touched upon above, Flibanserin doesn't work in the same way as Viagra. The primary difference is that unlike Viagra, Flibanserin has no influence on hormones, but instead focuses on changing brain chemistry (similar to antidepressants). Viagra on the other hand works by increasing blood flow to the penis.
This means that this treatment doesn't share the same side effects as Viagra, which can include a depressed mood, hot flushes, headaches and a blocked nose.
Who can use Addyi (flibanserin)?
Addyi can be used by premenopausal women who have female hypoactive sexual desire disorder (FHSDD). This is characterised as developing no desire for sex after previously having a healthy sexual desire.
However, like all medication, this treatment isn't appropriate for everyone. For example, if you have low sexual desire due to:
A co-existing medical or psychiatric condition
Problems within a relationship
Effects when taking the medication
*Addyi is not to be used for the treatment of FHSDD in postmenopausal women or the improvement of sexual performance.
Interactions and Contraindications
Drug interactions with Addyi (flibensarin) should be well understood and includes alcohol consumption, individuals with liver impairment and patients that are taking CYP3A4 inhibitors. Those in this category are advised to seek alternative options.
In particular, Addyi's possible negative effect towards alcohol will need to be assessed with each individual at hand as the risk of fainting is a major concern. As a result of this particular interaction, Addyi will only be available from certified healthcare professionals and certified pharmacies.
Addyi and alcohol - If you enjoy the odd alcoholic drink, all healthcare professionals must assess the likelihood of you taking Addyi and not experiencing any side effects. The FDA is ensuring that further studies take place to better define the interaction between flibensarin and alcohol.
Addyi and CYP3A4 inhibitors - The risk of fainting is significantly increased because of drug interactions with moderate-to-strong CYP3A4 inhibitors that interfere with the breakdown of Addyi in a woman's body.
Side effects of female Viagra (flibensarin)
Not everyone experienced these side effects during clinical trials. In fact, very few experienced any side effects at all. This proves that although these side effects are possible, they are quite rare; therefore, Addyi is a completely safe and effective treatment. While Addyi has been clinically proven to be a completely safe medication after 68 trials on over 10,000 women by the FDA, there are some low to moderate side effects. These side effects are:
Dizziness
Anxiety
Fatigue
Dry mouth
Insomnia
Nausea
As this treatment is still fairly new, studies will take place in the future to further understand the side effects associated with Addyi.
When will Addyi (flibanserin) be available to buy?
The FDA have been aware for some time that there are a lot of issues when it comes to developing treatments for female sexual dysfunction. After much discussion and years of deliberation and trials, a panel of FDA advisory doctors approved Addyi (flibanserin) for the treatment of FHSDD (low sex drive) in women. Addyi 100mg is currently expected to be available from October 17th 2015 in the US. If and when the treatment will be available in the United Kingdom still remains unclear.