Smoking Facts
A single inhalation of a cigarette invites over 4000 different dangerous, carcinogenic chemicals into a smoker's body. The mixture of tar, nicotine, harmful gases and chemicals has a detrimental effect on a smoker's lungs, body, arteries and organs. Many people start smoking due to peer pressure or simply to conform; they seldom know all the smoking facts and exactly how much harm smoking can do, not only to themselves, but to non-smokers too.
What's in a cigarette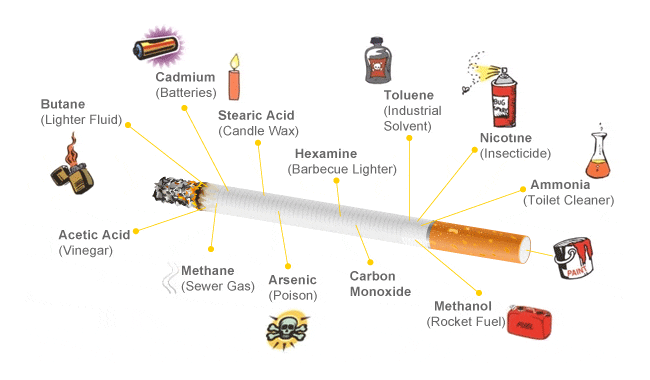 Cigarettes
In order to be fully aware of all the smoking facts, it's important to know what goes into a cigarette. A single cigarette contains, as mentioned above, over 4000 different harmful chemicals. On their own, each chemical can play a role in damaging your body, and together they make up a rather lethal cocktail. The following chemicals can be found in cigarettes and are transferred into the body through the act of smoking.
Nicotine
Nicotine is considered to be the addictive element in cigarettes, the chemical that gets smokers hooked and has them coming back time and time again. Some smoking statistics show that nicotine is as addictive as cocaine. Nicotine is responsible for affecting the increase and decrease of hormones in the brain, namely noradrenaline and dopamine.
When increased, these specific hormones have a positive, radiant effect on your mood and concentration levels. These hormones decrease rapidly after a cigarette, leaving the smoker irritable, moody and anxious, which is precisely why they are addictive, as another cigarette will temporally place them back into that euphoria again.
Smoking facts don't just have to be about how the lungs and heart are harmed, as nicotine also slows the body's ability to heal itself by dehydrating the skin. This has an affect on the overall aging and longevity of your skin. It also raises the level of cholesterol in the blood.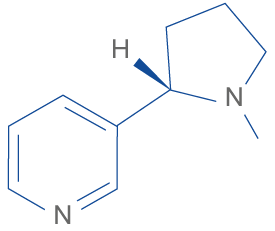 Tar
While nicotine is considered to be one of the worst chemicals in a cigarette due to its addictive properties, it isn't the most harmful. Tar is inhaled through smoking and is deposited in the lungs. It is highly carcinogenic (known to be cancer-causing).
Carbon monoxide
Another interesting smoking fact is that of all the chemicals that go into a single cigarette, carbon monoxide is the one that makes smoking harmful to pregnant women. Carbon monoxide prevents oxygen bonding with the haemoglobin in the blood stream, which means that not enough oxygen is carried around the body. Pregnant women therefore put an unborn baby foetus in danger.
Benzene, polonium and oxidant gases
Oxidant gases are gases that react with oxygen, which in turn makes the blood in your arteries and veins more likely to clot, increasing your likelihood of experiencing a heart attack. Benzene used to be added to the solution used to make petrol.
Without even looking at smoking statistics or any more smoking facts, you will surely be considering giving it up. Smoking is a habit that's responsible for causing impotence, infertility in both men and women, and for causing a number of different cancers. Coping with the side effects of giving up can be difficult, but all you have to do is remind yourself of the harm smoking does and you'll never regret it.