What to do during an asthma attack without your inhaler
A step-by-step guide on how to ease your symptoms
Your reliever inhaler is an important part of your asthma management.
It is a quick-relief medicine that relaxes the muscles in the airways. It is designed to rapidly relieve symptoms of an asthma attack. That's why you must carry it around with you at all times.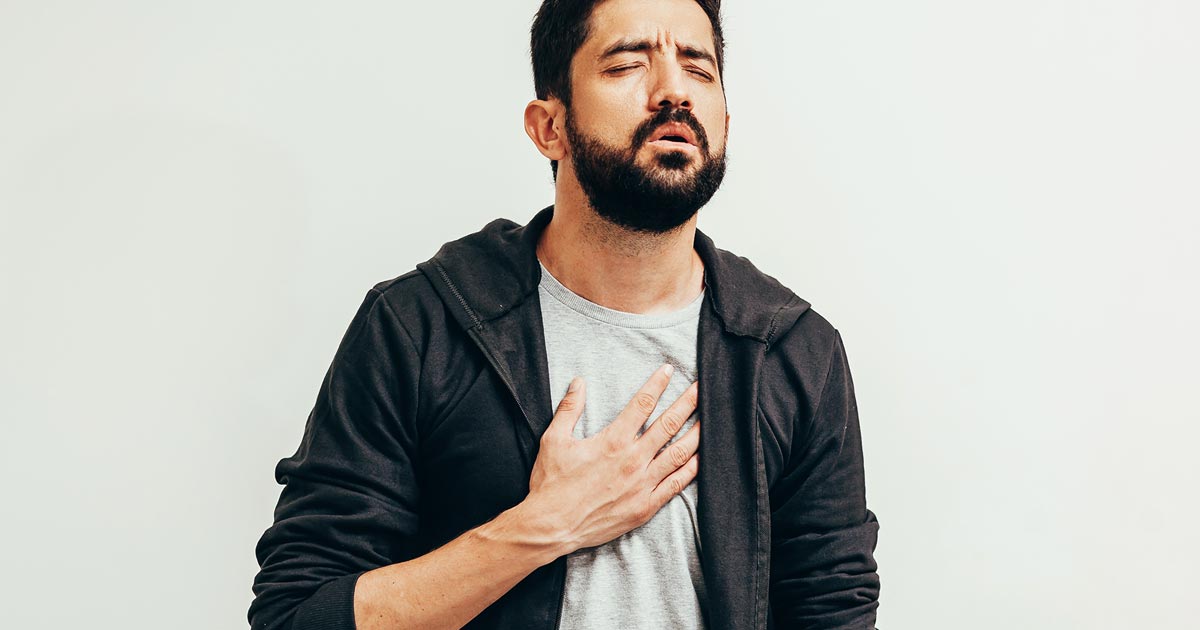 However, accidents happen. You may forget to take your inhaler with you or you may not think you need it that day. But, you should learn what to do in the event of an emergency and you don't have your blue asthma inhaler.
If you're worried that you or your loved one is having an attack, don't panic. Read our step-by-step guide on what to do and how to get help if you need it.
Is it an asthma attack?
Firstly, it's good to establish the signs and symptoms of an asthma attack before springing into action.
An asthma attack happens when your symptoms get worse for a short period. They can come on suddenly or after a few days. They are usually triggered by something. Common asthma triggers include having a cold, hay fever or exercise.
Signs of an asthma attack include:
wheezing, cough and chest tightness symptoms are severe and constant
being too breathless to eat, speak or sleep
breathing faster
a faster heartbeat
If you're experiencing any of these signs, you should take action as soon as possible.
What to do to control an asthma attack without an inhaler
If you think you're having an asthma attack and you don't have your reliever inhaler, you should follow these steps.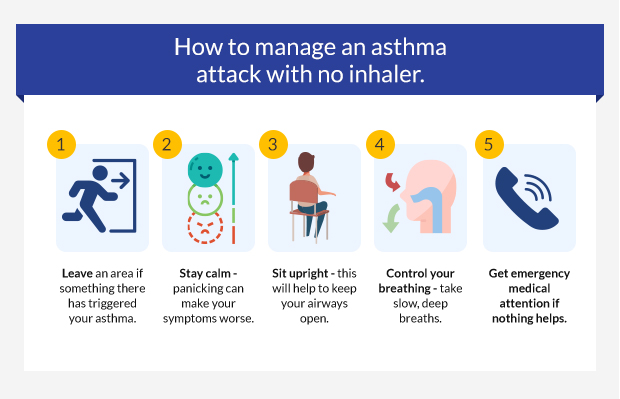 Move away from the environment - if something has triggered your asthma and you can do so.
Sit upright - this will help to keep your airways open and make breathing easier.
Take slow, deep breaths - this will help to control your breathing.
Stay calm - panicking may make your symptoms worse. You may want to close your eyes and visualise a peaceful place while you breathe to reduce anxiety.
Get emergency medical help - if nothing helps, call the emergency helpline number in your area to get rapid medical treatment.
These steps will not work for everyone. So, if you think your symptoms are not improving or are getting worse, seek medical attention.
Breathing techniques
There are several techniques you can try to help steady your breathing and calm you down.
Start by taking a few, slow deep breaths through your nose.
Then start exhaling through your mouth in a controlled way by using your diaphragm to push the air out.
After a few deep exhales, start pursing your lips as you breathe out (as if you're trying to blow up a balloon).
You can also try controlled coughing. This technique is useful if a cold or excess phlegm triggers an attack. Each time you take a deep breath, hold it for a few seconds then cough strongly to clear your airways.
Finally, you could try alternate nostril breathing.
Start by deeply breathing in and out.
Then, close your right nostril with your finger and breathe in through your left nostril.
Then, close your left nostril and exhale through your right nostril.
Keep repeating this and alternating nostrils until your breathing is steady.
If your breathing hasn't improved, you should consider getting medical attention.
When should you get medical attention?
The first sign that you should seek emergency medical attention is when simple techniques aren't working.
You should also look for signs of oxygen deprivation, such as:
drowsiness, exhaustion, confusion or dizziness
lips or fingers turning blue
fainting
If you notice any of these signs, you should call the emergency services number in your area as soon as possible.
Seeking medical attention is the best way to prevent an asthma attack from becoming fatal.
How to prevent future asthma attacks
If you keep having asthma attacks, you should speak to your GP or asthma specialist. It may be that your treatment plan is not working for you. They may adjust your asthma treatment and review your asthma action plan to reduce the risk of asthma attacks.
You should also make sure to always carry your blue reliever inhaler with you, even if you don't think you need it. Using your reliever is the best way to treat an asthma attack.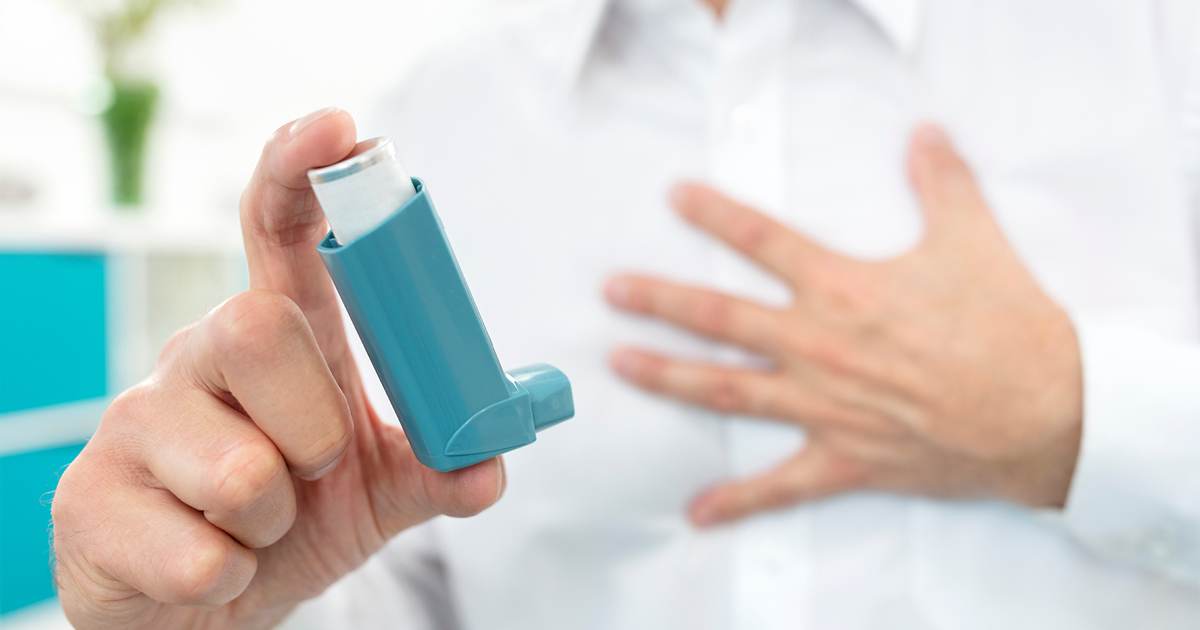 You should keep on top of your inhaler prescriptions. If you are about to run out, order your prescription as soon as possible. If you lose your blue asthma inhaler or run out completely, your pharmacist may be able to give you an emergency prescription.
You can also reorder your inhalers online. At euroClinix, you can reorder your reliever inhaler online and get it delivered to your address. Your prescription will be issued by one of our registered doctors, saving you trips to the pharmacy or GP. It also means you're less likely to run out of treatment.